Bad news.

It is no longer possible for us to continue with Cards For South Africa due to legal reasons.

We thank you all for your excitement and support for our game.

The public Google Sheet will remain available for you to enjoy the crowd-sourced answers.
Click the button to enter your email and we'll send you a download of the pack when it's ready.
Oh, and it's all for mahala. (Seriaas!) How?
As featured in
PRESS RELEASE: CARDS FOR SOUTH AFRICA LAUNCHES OCTOBER 2017

The term crowdsourcing comes to mind when considering how marketing entrepreneur Jonathan Berkowitz decided on the best way to bring his version of Cards Against Humanity to South Africa.
The well-known game has been available online for some time in American, British and Australian versions. It was only when Berkowitz decided after playing the hilarious game that South Africa, with its melting pot of political incorrectness, required its own unique game. What better way to do it than to ask South Africans from all walks of life to send in their submissions through an online document which went viral on Facebook just a few months ago.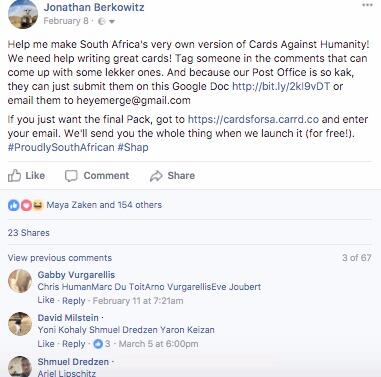 The original Facebook post on Jonathan's timeline
You can view the online submissions document here: https://cardsforsa.carrd.co
Cards For South Africa was originally inspired by Cards Against Humanity, the American card game where players fill-in-the-blank sentences using words or phrases, usually offensive or politically incorrect ones on playing cards.
Jonathan wanted to see a game that was different to Cards against Humanity, one that was for all South Africa, by all South Africans.
Jonathan says;

"Our country has some serious on-going political and cultural problems. However, South Africans are amazing in the way that despite our issues and differences, we can always laugh at ourselves. We are aiming to make Cards For South Africa an inclusive game where a diverse group of South Africans can sit around a table and play together - uniting us through humour and fun.
As you well know, unity through humour is a South African specialty."

Looking at some of the crowdsourced card submissions, South Africans definitely do have a sense of humour, even if most of them are a little on the edge. Developing the game was a labour of love. Jonathan describes being the springboard for people's submissions, sometimes a tough job.
"We have had a team of dedicated copywriters, a designer and app developers, all putting the card game together in their spare time."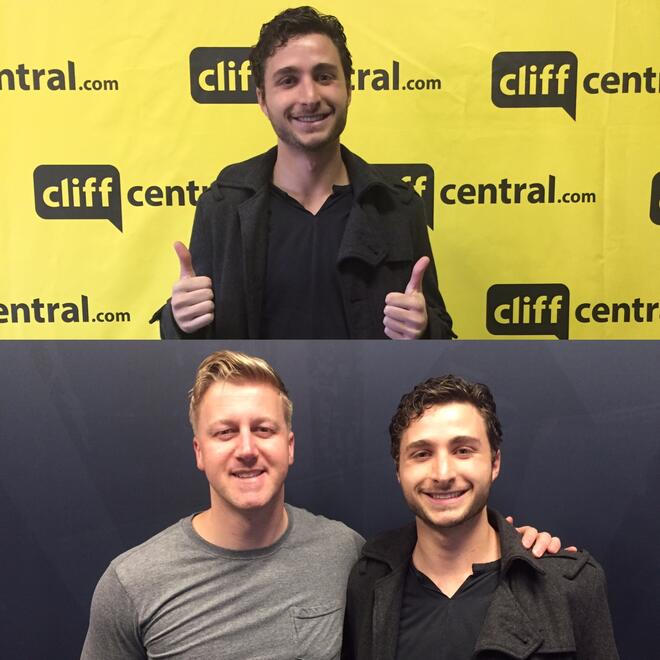 Jonathan Berkowitz was interviewed by Gareth Cliff on Cliff Central earlier this year about the game and its success!
How it all works

The suggestions get selected and sent to a volunteer copywriter who edits out incorrect grammar; these are then passed to a volunteer designer who adds the cards to a downloadable PDF document, freely available to anyone who signs up on the Cards for South Africa website. If you want to see a sneak preview of the cards check out the Cards for South Africa Instagram Page.
The current pack contains 540 cards, but Berkowitz is planning an expansion pack as soon as possible. These expansion packs will be automatically sent out to the email database of individuals who initially signed up. There is also an app for the game underway; this will allow up to 12 people to play together on their iOS or Android phones. The game will also cater for a wider range of players such as under 18's, sports only fans, politics and popular culture-specific genres.

"It's a great way to keep the game alive and also keep South Africans laughing," says Berkowitz

It is also important to mention that the game will remain purely non-profit in order to ensure that each and every person can download it for free and enjoy the fruits of this South African crowdsourced initiative no matter their financial status.

Laughter is the best medicine and this medicine is free.

## END ##
The original Cards Against Humanity is under a Creative Commons License - that means we can use, remix, and share the game for free.
And so we have.
But, it also means we can't sell it.
And we aren't.
Well not without their permission that is and we're not planning on that.

So instead, we're sticking to creating and sharing our free PDF that you will have to print yourself.
Follow these instructions so you don't do a kak job.
Sponsored by The Random Roundup
The free weekly newsletter that'll make you sound waaay smarter.
Here's a small sample of the Cards.
Help us write some more by submitting your ideas here
Finished having a lag?
Enter your email and we'll send you the pack when it's ready.
Oh, and it's all for mahala! How?
Sponsored by The Random Roundup
The weekly newsletter that'll make you sound waaay smarter.